Tattvarth Sutra Book ( તત્ત્વાર્થ સૂત્ર )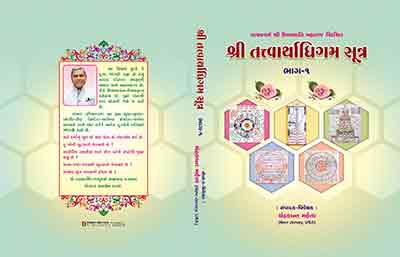 Click here to zoom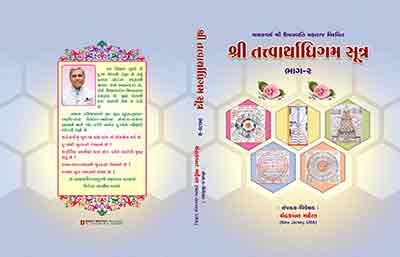 Click here to zoom
Synopsis:
Tattvarth Sutra book is written by Jain scholar/Instructor Chandrakant Mehta (New Jersey, USA). This book is written in easy to understand simple Gujarati language. This book has plenty of real-life examples for easy understanding. Each book set consists of Two separate hard cover books. Part 1 (Chapter1-5) Part 2 (Chapter 6-10)
This book will enhance your knowledge in basic nine elements of Jain religion. It will help the reader understand basic theory of Karma and how to destroy all karmas and make the soul completely free.
Each Chapter is broken down in the following manner.Meaning of each sutra (Sutrarth); (Spiritual meaning) of each sutra (Bhavarth), brief summary at the end of each chapter; Color pictures of Jain Geography, Charts, and Tables; Chapter Test; Chapter Exam; Answers of each Test and Exam are given on the back of the book.
Tattvartha Sutra is regarded as one of the earliest, most authoritative books on Jainism. It explains the fundamentals of Jain philosophy in depth, and presents the complete Jainism philosophy in 350 sutras over 10 chapters. The term Tattvartha means "nature of reality".
Jain scholar and teacher Shri Chandrakantbhai Mehta has taught courses in Tattvartha Sutra. He has written a 2-volume set of books on Tattvarthadhigam Sutra in Gujarati. This is based on the original book by Shri Umaswatiji, and his own research, class notes, and discourses. This is among the most detailed and comprehensive books on Tattvarthadhigam Sutra in Gujarati.
Example – Details of each Suttra: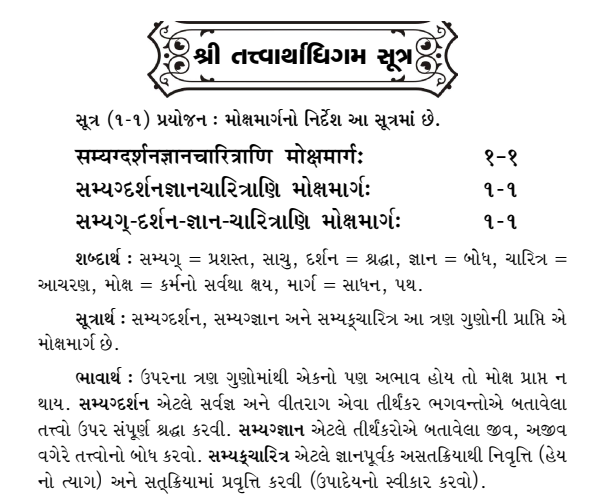 Book Reviews:
As I turn a new page, I salute depth of your comprehension and wording the same for your audience. I am so impressed (and would say immersed) with your style and humility, that I am writing this brief message to convey my hearty thanks.
Dharm Jain,
Toronto, Canada
I had a chance to take a glance at your books on Tatvarthsutra Sutra. They are just amazing and full of information. I feel you have put in lots and lots of effort in preparing and publishing them. It should serve as a very valuable source of information not only to laymen but also to sadhus and sadhvis for generations to come.
My hats off to you for producing such a wonderful set on the core teachings of Lord MAHAVIR.
Anop R.Vora, 
Rochester, NY
Since January 2018, in the monthly St. Louis Jain Center Adult Pathshala classes, I am conducting Swadhyay on "The Tattvarth Sutra" using "Shri Tattvarthathigam Sutra" book by Shri Chandrakant Mehta. In the book, Chandrakantbhai has presented the intricate subject material in a very orderly manner; starting with each sutra in its original form in Sanskrit, then in Gujarati, followed by meaning of each word, meaning of sutra, and then detailed discussion. In many places, the detailed discussion contains explanation in the form of questions and answers and with charts and diagrams. I have found this form of presentation easy to follow and helpful to understand the essence of the sutra for me and for the Swadhyay participants. Further, the Review Questions and Exam Questions at the end of each chapter and/or chapters are very useful in reviewing the material at home and then again re-reviewing it in the class while discussing the answers. Sometimes, we use material from other books in the Swadhyay to supplement our discussions, but our main resource is this book. I believe that this book would be a very good resource for those who want to learn the basic concepts of Jainism.
Kirit Shah, 
St. Louis, Missouri

તત્ત્વાર્થધિગમ સૂત્ર એટલે જૈન દર્શનના સિધ્ધાંતોને સમઝાવનારો ગ્રંથ.શ્રી ચંદ્રકાન્તભાઈએ તત્ત્વાર્થધિગમ સૂત્ર ઉપર ખુબજ સુંદર વિવેચન આપણને આપ્યું છે.આ ગ્રંથ ઉપર સરળ ગુજરાતી ભાષામાં લખવા માટે બહુજ મોટો પ્રયાસ તેમેને કર્યો છે. જે અત્યન્ત આનંદનીય છે.વિદેશમાં રહેતા આપણા માટે આ ગ્રંથ બહુજ ઉપયોગી છે.આપણે સમઝી શકીએ આવી ભાષા અને એવા દાખલાઓ સાથે એમને ગ્રંથનાં જ્ઞાનનો નિચોડ આપણી સમક્ષ મૂકી દીધો છે. અમે તત્વાર્થ સૂત્રનો સ્વાધ્યાય કરીએ છીએ.એમાં આ પુસ્તક અમને ખુજ ઉપયોગી થયું છે.દરેક આધ્યાયની પાછળ આપેલા Review Question and Test Exam થી સમઝાવમાં બહુજ સરળતા રહે છે.

વિદેશમાં રહેતા જૈનોને આટલું સુંદર તત્વજ્ઞાન આપવા બાદલ અમે તેમની ખુબ ખુબ અનુમોહન કરીએ છીએ.
પલ્લવી મહેતા
હ્યુસ્ટન,ટેક્સાસ
Book Ordering:
This book set costs you nothing. However, we recommend $20 voluntary donation for the "Gnan fund" + shipping cost. If you need more information, or need more book sets for prabhavna or giving gift to your friends and relatives please contact any of the following members of Tattvarth book committee. The books will be shipped to an address in USA.
Hamir Vadi Click Here
Pravin Ajmera Click Here
Nitin Shah Click Here