Religious Biography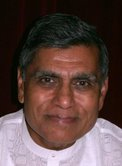 Chandrakantbhai was born and raised in a religious family in Ahmedabad, India. He showed tremendous interest in spirituality at an early age.  He explains the concepts of Jainism using real life experiences and motivates the listeners to follow in our daily life. He has inspired countless people by his selfless service to the Jain community.  He is a well-respected Jain scholar who has provided a remarkable contribution to the Jain community of the United States and abroad by giving lectures, Fundraising speeches, Swadhyayas, Samuh Samayiks, and Shibirs. He has served as Member of Board of Trustees (BOT), Chairman of Board of Trustees for Jain Center of New Jersey and Director of JAINA. He was a  Co-Chairman of the Shikharbandhi Temple project in Franklin Township, New Jersey.
He is an international speaker and scholar.  All Jain traditions from Swetamber, Digamber, Sthanakvasi, Terapanthi and Shrimad Rajchandra Mission invite him for discourses on the application of Jain principles.  He received Awards of Excellence/Recognition from JAINA, Bharatiya Vidya Bhavan and various Jain Centers & Study Groups globally.
He has delivered inspiring lectures in America at Jain Centers, JAINA and YJA conventions, Interfaith Religious Organization, Hindu Societies, Sanatan Mandir Swadhyay Group, Senior Citizen Centers, Churches, High schools and at the 2600th birth anniversary of Mahavirswami in the Chapel at the United Nations, New York City.  He has given discourses in Canada, Hongkong, Singapore, Antwerp (Belgium), Kobe (Japan), Dubai (UAE), Bangkok (Thailand), Malaysia, Mombasa, Nairobi,Thika,Nakuru(Kenya) and many cities in India. He has conducted over 300 lectures (Samuh Samayiks, Swadhyays and Shibirs) in New Jersey and other Jain centers of USA.  He does Laghu SiddhChakra Pujan every day for past twenty years.
He taught "Tattvarth Sutra" granth, one of the most sacred literature of Jainism to a large group of students in New Jersey from 2013-2017. This was conducted as a college level course. He gave quizzes and exams regularly and conducted a graduation ceremony for the students at the end of 4 years.  His two part book on Tattvarth Sutra was published in 2017 which includes all the review questions, quizzes, exams and answer keys.  This two part book is available to anyone who wants to study Tattvarth Sutra.  His 83 videotaped lectures on Tattvarth Sutra have been uploaded on You Tube.  These lectures are also uploaded on the website (www.studyjainism.org) Due to heavy demand for Tattvarth Sutra Swadhyay, He began a new series of Tattvarth Sutra. Due to CORONA Pandemic, Tattvarth Sutra Vivechan is conducted on ZOOM every Thursday. Jain Center of New Jersey (JCNJ)directly uploads his lecture on YouTube through live streaming. His new lectures on Tattvarth Sutra is available for viewing on the website. www.studyjainism.org/video and select "Tattvarth 2020".  The second edition of the Tattvarth Sutra is published and PDF file is available to copy any page(S) or the whole book.
In 2018-2019 he taught great Adhytma Granth "Gnansar" using same tools (review questions, exams, etc) as he did for Tattvarth Sutra. Gnansar videos can be viewed on YouTube or the above website.   He has written a book on "Siddhachakra Aaradhana ane tena Rahasyo".  This book is also uploaded on this website. In 2019 his new book on "Bhaktamar Stotra" is published explaining spiritual explanation of each shloka and the method of performing each yantra pujan. This book will be uploaded soon on this website.
Chandrakantbhai came to the United States in 1970. He holds a Masters degree in Physics from India and a Masters degree in Nuclear Engineering from the United States. He and his wife did Shetrunjay Giriraj 99-yatra for five consecutive years. His wife Pravinaben wrote a book on "Amari Navvanu yatra no Mitho Anubhav"  (sweet experiences of our 99-yatra) in Gujarati. This book is also uploaded on this website.
Presently, Chandrakantbhai and Pravinaben live in Somerset, New Jersey USA.  They feel blessed to have two married children and four grandchildren residing in Austin, Texas.